I have noticed some reports concerning a Florida law suit between the family of baseball hero Roger Maris and the Anheuser-Busch company. You can follow the case by reading articles like this in the Gainesville Sun but this passage notes one of the key issues which came to me as a bit of a surprise:
The attorneys said statements were based on court documents believed to be true, but a TV-20 report was shown in court in which Jacob said "Mr. Maris" repackaged old beers and sold them as if they were new in violation of the brewery's freshness policy. On questioning from Maris attorney Madison MacClellan, Jacob said he had no proof the Maris family was aware of any tampering if tampering was occurring, and he agreed the percentage of outdated beers found in Maris' territory - a tenth of a percent - was far less than the same year's 4 percent national average and 7 percent average in the Midwest, where the brewery is based.
It is not so much surprising that this would be alleged as it would that it would be a practice. Simple me being what I am, I would have thought that the actual cost of the beer in a mass produced beer would not be significant after R+D, marketing, branding, transportation...that sort of thing so that salvaging the actual beer would not make economic sense.
I know very little about the beers of
Great Divide Brewing
of Denver, Colorado except the little active guy images worked into the font on each label are the first time that I have felt athletically intimidated by a beer. But I am going to suck it up - 'cause there is no gain with no pain - and pull one out for the team by learning more before I finish off updating this post over the next few days.
This is a matter of taste but Gret Divide leave me with questions about the amber and about the sulfate levels. But they are well made and well thought out beers
There are a few times my good wife is very pleased with this hobby. One is when there is Guinness in the house and one is when there are lambics. These historic vestiges of a Belgian need to capture summer fruit are made without added yeast...because the valley of the Senne is loaded with airborn natural yeasts. In the winter when these beers can be made, the windows at fairly musty unsanitary breweries are opened to expose open wort vats of straight gueuze (or geuze) or fruited lambics in traditional flavours like cherry kreik or black current cassis and the beers undergo spontaneous fermentation after which they are casked. This handy web page will likely tell you more than you need to know about the process.
One difficult thing about them, particularly the fruit beers like the raspberry - or framboise - by Mort Subite that I reviewed last March is that they really can come across as only an incredibly concentrated take on the fruit. One friend recently exclaimed when trying her first cassis: "the children would drink this for God's sake!" Well, it is sort of the fruit juice the Lord made. The other difficult thing is buying something that calls itself lambic, is a wee bit cheaper only to find out that it is a syrup based brew and not the real deal with fruit gurgling in the ale through fermentation. I try to stay away from those. But let's see how these work out:
A good introduction to the style. I am going to make a point of learning more and more.
I haven't checked the ranking hereabouts on Google for the one word search "beer". We had been in the 80s and 90s for a while. Today we are #22. Knut must be the reason.
I have a flaw — or perhaps it's a virtue — in that I feel unsettled around people or things that are indecisive. Don't get me wrong — I appreciate ambiguity, especially creative ambiguity that forces one to think and interpret. But there is ambiguity, and there is indecision.
I'm not entirely sure which description applies to Köstritzer Schwartzbier, the black lager of Köstritz, Germany. I really had no idea what to expect when I opened the can. After all... a black lager?
It poured with the consistency of a regular lager, with a big gassy head that dissipated fairly quickly, leaving behind a decent lace. On the way into the glass it looked like a cola, but with finer bubbles. It appeared black, but like a cola was in fact a deep rich red, almost purple. I held the glass up to the sun and barely a ray made its way through. Yet it didn't appear to be as thick in texture and consistency as a stout.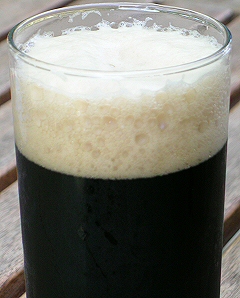 I gave it a sniff, but didn't detect much aroma — just a faint beery aroma with a remote toastiness. I let it settle for a minute and then sipped.
At times like this I wish I had the descriptive talents of our own Good Beer Blogger Alan, as the flavors I found in the Köstritzer were not easy to pin down. It had the texture and consistency of a lager, which is to be expected I suppose, but with a more lingering presence in the mouth. On the other hand, it looked like a stout, but did not have the earthy nose and weighty heft of a stout.
There was a sense of espresso, or perhaps it was bittersweet chocolate. I'm not sure, because it was not really the taste of those things, but more like the dry and bitter aftertase of them. Each sip left a slightly parched feeling in the mouth, making me wish for a sip of water.
It's not unusual to feel that effect from stouts or hoppy bitters, but in those cases it follows a burst of rich and robust malt and hop flavors. The Köstritzer had the feel and aftertaste of a robust brew, but without the primary flavors!
Lagers are, by their nature, light in flavor, but a good lager still has that hint of fullness to it — a roundness to the flavor, with a memory of yeast, that lingers after the initial sharpness of the hops. Perhaps Köstritzer has that too, but if so I didn't notice, because the dry toastiness of its stout-wannabe aspect barged in and got in the way of any delicate lager subleness that may have been there.
After a few sips I started to grow accustomed to this unusual and unexpected beer experience. Perhaps it had been too cold at first. Perhaps my tastebuds simply can't reconcile certain combinations. It didn't taste bad, but I never really got to love it.
I kept thinking of that awful movie Hollywood Homicide, which suffered from the indecision of not knowing if it was a crime movie or a comedy, so it never quite lived up to either. Same thing with Köstritzer — is it a lager, or is it a stout? It isn't really either, so where does that leave you?
I have written about Southern Tier's porter a couple of times and reviewed the IPA. All but the Hop Sun were in a variety twelve along with the porter that I picked up at the beginning of July - again obeying the golden rule of variety twelves (all ales and four styles please). I have enjoyed everything they have thrown at me and here are a few more:
Myrick in China has forwarded a very useful link to a Wall Street Journal blind test of lagers. I am no lover of lagers but there are some interesting results which I pretty much would agree with.
Update: Here is a bit of a surprise for a Friday morning. Not only did the good Myrick give me the heads up but apparently the Wall Street Journal itself did:
I handle free articles for WSJ.com, and thought you might enjoy this article, on a blind taste testing of lagers, including craft beers, imports and major domestics like Bud...

Carl Bialik
WSJ.com
Soon I will be invited to fancy parties.
A really nice seasonal hefeweizen from Smuttynose to add to the year of the hefes. I think this is my eleventh so far - nope, the worthy Paper City's makes twelve. While I do not have a side by side, I think this New Hampshire ale is up there for a state-side version ahead of the hefes of Rouge, Saranac, Harpoon and the Adirondack.
In the glass, lace-leaving white foam over bright clear yellow straw ale. For a summer weizen there is plenty of flavour, a nice rich banana roundness with some cloves as well as a good firm slash of twiggy hops. A german hefe would impose steely hops. This is warmer, less austire while still being true. Sweet label as well. Click below...and left as well.
"It's a shame," said Zhao Shouzhi, a peasant farmer from Linkou county who witnessed the rehearsal when she was in Harbin to visit her relatives. "Obviously they have no idea how hard it is to grow the grain that is used to brew the beer they squander."
Sadly,
the beer fountain
at the
Fourth Harbin International Beer Festival
has been shut down by the government of the northeastern Chinese city of Harbin.