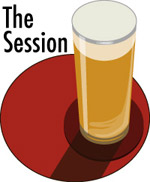 Further to my recent admission of an understanding gap, Pete Brown has been given the keys to today's Session #63, The Beer Moment:
I've been thinking about this quite a lot recently, because I've been talking about it to various people who are working hard to try to improve the image of beer in the UK. Because whether we articulate it or not, whether we drink vile, sunstruck Corona or barrel aged imperial stout brewed with weasel shit, it's about the moment far more than the liquid itself. The only people who disagree with me on this are people I wouldn't want to share a beer with.
See, that is just silly. The beer moment is no more profound than the ciggie moment. "Smoke Break!" was a proclamation a pal made decades ago at a summer job. Time for tools down. Time for tea. A good cup of tea. Or... what? A bag of chip? Feet up? That's what makes a moment. Whatever you need at the time.
There is no beer moment. There are moments. In life. In your life. Beer does not change the moment even when it is present within it. Any number of other things could be there instead. Don't let the ad men fool you.