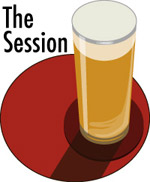 This month's edition of The Session is being hosted by Engerlander Nathaniel Southwood of Booze, Beats and Bites. It's a fairly new blog which is surprising as I thought blogging had been declared dead. Nate asks us to consider this question:
Am I weird for going to the pub alone? How do you feel about going to the pub alone? Do you feel it's necessary to be around friends to spend time in a pub?
My first thought about this is that this is an entirely cultural question tied to the UK. "Going to the pub" means something that I am pretty sure does not exist in much of North America. The closest analogy I can think of is going to a mall. It is private space that is considered wide open public space in a way that a restaurant never is. So drinking in a pub is sort of like wearing a purple suit at a mall. You are doing something some find questionable in a public space.
But, as the Tandyman posted today, in the public space that is the pub you can find private or at least solitary experience. He is quite right that finding some higher standard in drinking with others creates a false distinction. Kingsley Amis's book Everyday Drinking is a study in strategies for the highly sociable problem drinker. But a highly entertaining one. Yet, for me, a cautionary tale about what Tandleman rightly calls destructive.
While I am the son of Scots and have spent time in pubs, I don't have the opportunity here. The closest I can come to is my shed. I live in a land of 4 or 5 foot fences. My backyard is private property but it is at least sonically and visually shared space. When I drink in my shed as the BBQ smokes or after some work on the vegetable gardens, I am seen. I hear my neighbours. But in my shed I am also alone with the baseball game on the radio, the Saturday newspaper and my thoughts. And a beer. Or more. It is a good experience, full of meaning and sometimes drifting into a nap.