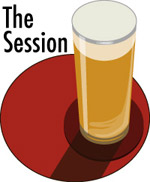 Craig asked the question:
What if you were to design the perfect brew—a Tolkien-esque One Beer to Rule Them All. The perfect beer for you, personally. Would it be hoppy and dark or strong and light? Is it augmented with exotic ingredients or traditionally crafted? Would your One Beer be a historic recreation or something never before dreamt of? The sky is the limit on this one. If you need to travel back in time to brew at Belgian farm during the 1870s, go right ahead—just say hi to Doc Brown and the Delorean for me. Maybe you'll need to mount a expedition to the treacherous Amazonian rain forest to bring back some chicha, to spike your brew with; or perhaps, you'll just dust off that old Brown Ale homebrew recipe, tweak it a bit, and call it an evening.
This is a good question as through it we discover our own values as we consider the what and why of being a beer nerd. I am going to pop back through the course of the day as I think about what it means... and as I get on with my day having just returned back from a week away. But there are a few principles that I would need to keep in mind creating or selecting my dream beer:
♦ Price - I was just in one of my favorite beer stores, spent over $200 and was most impressed with my ease at passing up so many highly and overly priced beers because of the excellent selection of well priced beers. No one expects that your beer should come at a loss but, really, if you think that you deserve $20 for a 750 ml bottle of that you really are kidding yourself. Or... is that the point of Craig's question? Has the nerd-quest for the next beer made us subject to the evil forces, the sapping power of the ring? Looking at a particular $12.99 375 ml bottle yesterday that cost me just $6.99 a couple of years ago with no justifying inflationary forces makes me wonder who and what we beer nerds are being asked to serve. I could have bought and sipped it at Max's for as much.

♦ Packaging - wicked twin to price is packaging format. We all know that distance and too many middlemen inflate the price of your beer in the same way we know that Saruman was just a schlep for Sauron but one that had to be dealt with at great expense... until the tree people straightened him out. Be like the Ents. Do not accept wasteful depletion of resources for the greater glory of the evil one. See out packaging that is cheap and cheery. The growler. The can. The direct pour from the cask or finishing tank. Reject the two buck premium for the corked caged bottle. Even though I bought twelve yesterday. Don't be like me. Be an Ent.
More as I think about this. The elements of good beer don't come quickly, you know. And there is BBQ to be made on this stinking hot day. [Later...]
♦ Strength - let's get to the actual fluid. I have a creeping suspicion that somewhere in the bowels of the craft brewers' central authority there are two posters on the wall. One reads "stronger is better" and the other reads "stronger is more profitable". In either case, my needs as a beer buyer and drinker are not met. I want more beer, not more booze. I want tasty not blotto-juice. So, those 100% more expensive beers which have 10% more cost input by adding 100% more malt to make a 10% beer do me few favours. You go to a fest and you see the staggering throng and ask yourself what good tasty 4% beer might do for us all. Me, I now look more and more for the lighter end of good beer. Hard to find here in Canada.
Another break to run across town and back... [Hours pass...]
♦ Maltiness - maybe it's because I am hitting 50 next year but, for me, beer is primarily about the malt. I came up through pre-IPA craft. Whether a tart wheat beer or a rich brown ale or even the orange marmalade backbone of a good double IPA, when I seek out a beer, I am seeking out what the yeast did to the sugars or, rather, what the yeast and sugars left behind. Hops may cut cloy or even frame the flavours of the beer but inevitably those flavours are made with malted grain. I want to taste that grain in at the heart of every sip. Not necessarily a popular approach to beer these days of imperial this, collaboration that. Yet beer is all about the grain. My dessert island beer needs a core that grew in a field and reminds me of an old windfall apple, of fresh bread crust or a chocolate cake. Don't care what. Dull the malt. Ruin the beer.

♦ Bite - whether acid or acrid or tang or twang, once we have established the value of a given glass of richness, it is made particular through the hint of lemongrass, the scrape of burnt toast or the sour hint of yogurt in the yeast. One of the most interesting things about beer is the never ending range and mixture of these notes, nuances, hints and nods. Secondary traits. Interesting traits. But when all is said and done, that is about all there is. Any beer that will rule my world needs to mold the malt through a canny play of yeasty excretions, vegetable matter residues and whatever is in the water table other than H20. Which is the one you want? Likely the ones you already like. You come to beer from where you've been. Did you expect otherwise?
So, what have left to discuss? Oh, which beer would rule my world? None. Not one. Over all these years and all these beers, there is no one thing that marks what governs. Many things turns me a way but no one taste layered over a well placed seam of malt drives me to the next and the next and the next. Could I make up one beer to satisfy my needs? I needs to be priced right and presented right, that's for sure. It has to tell me about the field where the grain grew and, then, it has to pretty it up in a hundred ways. Can one beer do that? That would be good but it is impossible.
One beer to rule them all? Isn't that what we do not want?