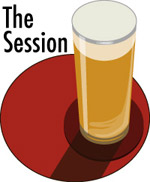 As many, including Stan whose bandwidth I am sucking for that image to the right, have noticed, Pete Brown has announced the topic for Session #63 in May: The Beer Moment. He states:
I've been thinking about this quite a lot recently, because I've been talking about it to various people who are working hard to try to improve the image of beer in the UK. Because whether we articulate it or not, whether we drink vile, sunstruck Corona or barrel aged imperial stout brewed with weasel shit, it's about the moment far more than the liquid itself. The only people who disagree with me on this are people I wouldn't want to share a beer with.
I have no idea what this means. Ad man speak? I certainly do not understand the line in the sand about sharing a beer with someone. Or maybe I understand entirely. Somewhere someone said something like beer makes you feel like you wish you felt when you did not have a beer. But so does a timely Manhattan, frankly. Or a lemonade or even cup of tea that is well placed in the day. And an imperial stout makes me feel different than a perfect macro lager moment. So I don't know. But I have until May 4th to figure it out.