I have a flaw — or perhaps it's a virtue — in that I feel unsettled around people or things that are indecisive. Don't get me wrong — I appreciate ambiguity, especially creative ambiguity that forces one to think and interpret. But there is ambiguity, and there is indecision.
I'm not entirely sure which description applies to Köstritzer Schwartzbier, the black lager of Köstritz, Germany. I really had no idea what to expect when I opened the can. After all... a black lager?
It poured with the consistency of a regular lager, with a big gassy head that dissipated fairly quickly, leaving behind a decent lace. On the way into the glass it looked like a cola, but with finer bubbles. It appeared black, but like a cola was in fact a deep rich red, almost purple. I held the glass up to the sun and barely a ray made its way through. Yet it didn't appear to be as thick in texture and consistency as a stout.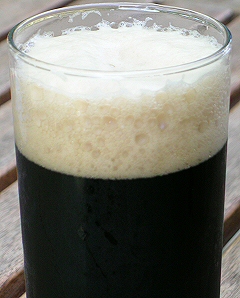 I gave it a sniff, but didn't detect much aroma — just a faint beery aroma with a remote toastiness. I let it settle for a minute and then sipped.
At times like this I wish I had the descriptive talents of our own Good Beer Blogger Alan, as the flavors I found in the Köstritzer were not easy to pin down. It had the texture and consistency of a lager, which is to be expected I suppose, but with a more lingering presence in the mouth. On the other hand, it looked like a stout, but did not have the earthy nose and weighty heft of a stout.
There was a sense of espresso, or perhaps it was bittersweet chocolate. I'm not sure, because it was not really the taste of those things, but more like the dry and bitter aftertase of them. Each sip left a slightly parched feeling in the mouth, making me wish for a sip of water.
It's not unusual to feel that effect from stouts or hoppy bitters, but in those cases it follows a burst of rich and robust malt and hop flavors. The Köstritzer had the feel and aftertaste of a robust brew, but without the primary flavors!
Lagers are, by their nature, light in flavor, but a good lager still has that hint of fullness to it — a roundness to the flavor, with a memory of yeast, that lingers after the initial sharpness of the hops. Perhaps Köstritzer has that too, but if so I didn't notice, because the dry toastiness of its stout-wannabe aspect barged in and got in the way of any delicate lager subleness that may have been there.
After a few sips I started to grow accustomed to this unusual and unexpected beer experience. Perhaps it had been too cold at first. Perhaps my tastebuds simply can't reconcile certain combinations. It didn't taste bad, but I never really got to love it.
I kept thinking of that awful movie Hollywood Homicide, which suffered from the indecision of not knowing if it was a crime movie or a comedy, so it never quite lived up to either. Same thing with Köstritzer — is it a lager, or is it a stout? It isn't really either, so where does that leave you?